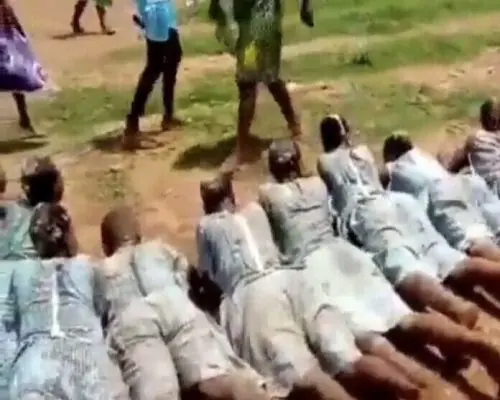 Some get to face certain punishments that may seem meaningless from seniors but all the same try their best to get them done within the time frame apportioned them. Others fail to beat the time frame and end up get tagged by these seniors as arrogant.
A video trending online covers SHS students who were seen lying with their front facing the ground and bouncing on the floor as termed "atopa" when they get flogged by these senior mates.
The big question here is where are the teachers before this is happening on the lands of their institution. The teachers are supposed to have their eyes on the students in this era as most of them get convinced by bad peer influences so easily.
Watch the video below:https://www.instagram.com/reel/CQRMSf8JTZB/embed/captioned/?cr=1&v=13&wp=652&rd=https%3A%2F%2Fstories.6chcdn.feednews.com&rp=%2Fnews%2Fdetail%2F15896ae27d45660cdbf8b526f84305ee%3Fac%3D3g%26app_version%3D8.6.2254.56868%26client%3Dnews%26country%3Dgh%26entry_id%3D2fbc178e210619en_gh%26features%3D35183784886029%26lang%3Den%26language%3Den%26low_perf%3Dfalse%26mode%3Dbody%26#%7B%22ci%22%3A0%2C%22os%22%3A727.5000000081491%7D
Please send us your articles for publication via editor@mrkaybeatzgh.com
Latest News In Ghana – Click Here to Read Our Latest News Stories