Going to school and grasping whatever you are taught is not an easy task at all. There are some students who are very intelligent and easily understand whatever is being taught in class. The case is different the opposite for some students. Such student get to understand whatever is being taught in class bit by bit. There are some students also who have the mindset that they wouldn't struggle to learn and prepare hard for examinations but would rather depend on "apor".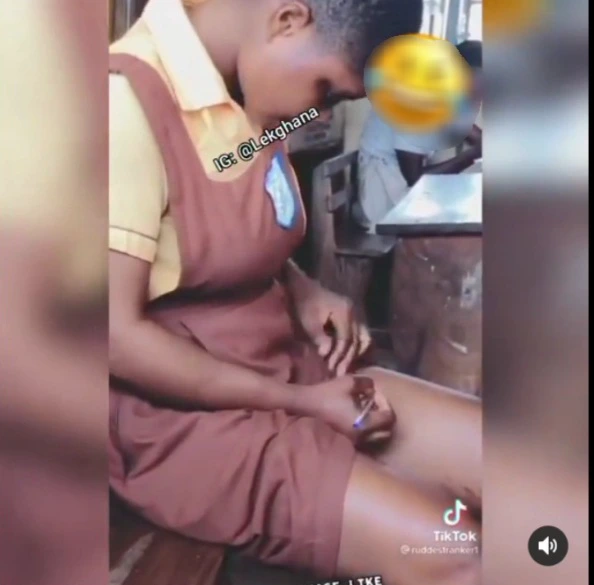 These are some of the things that have been going on in schools for some time now. Some students go to the extent of going to buy questions and answers they are mostly deceived would come in their exams. This mostly happens during students' mock examinations, BECE and even sometimes WASSCE. There had also been instances where some students write the "apor" in their nose masks and have very smart tactics they use to refer the answers from the nose masks.
In this article, we are going to look at a video making rounds on social media. In the video, a female JHS student was caught writing an "apor" on her thighs. From the video, the students were seated like how students and desks are spaced out when examinations are ongoing. As her colleagues were revising hard for the examination, this girl was caught looking through a sheet on her table and writing what was on the paper on her thighs.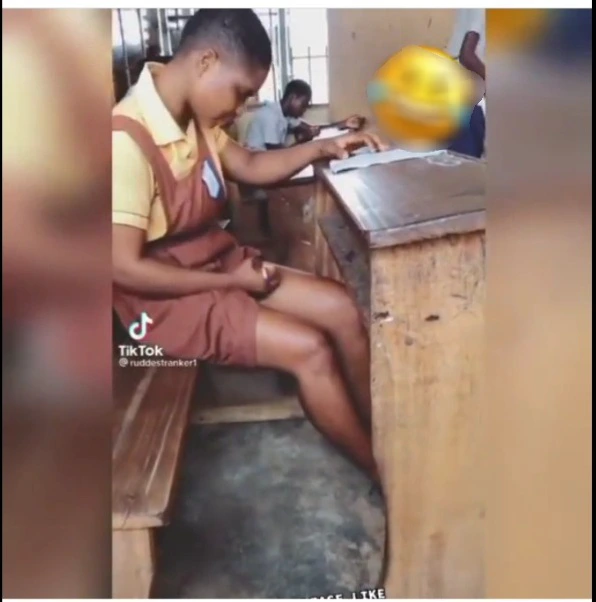 The funniest thing about what she is doing comes about when whatever she has copied doesn't link with the exams to be written. She would be severely punished too should she be caught. Using ink on the body can also be cancerous so you can imagine the trouble she is seeking for herself.
Kindly click on the link below to watch the video;
https://www.instagram.com/p/CTUI6r3jnyX/?utm_medium=copy_link
It is better to study hard and pass once and for all rather than to depend on "apor".
Kindly like,comment and share. Also, don't forget to follow my page for more trending news.