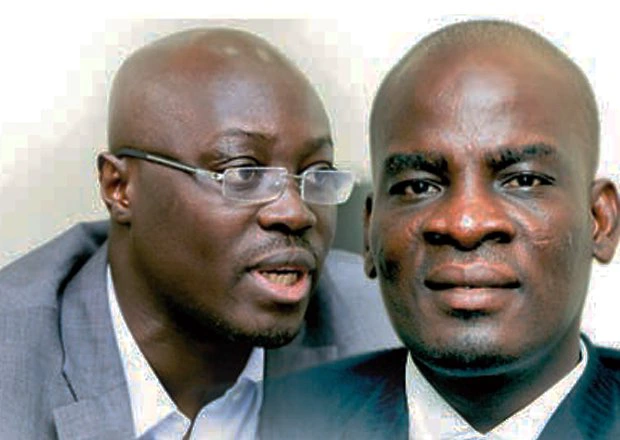 Ato Forson, Haruna Iddrisu
A publication by a pro-opposition National Democratic Congress (NDC) newspaper, giving details on how some NDC MPs and others from Civil Society Organisations were supposedly 'bribed' in the ongoing GNPC/Aker Energy multi-million deal, is causing uneasy calm in the opposition party.
This is because two NDC MPs who were mentioned as having been influenced so that the deal would go through Parliament without any opposition, have threatened to sue the private newspaper which is coming from their own stables.
Legal Action
Majority Leader Haruna Iddrisu (NDC MP, Tamale South) and Ranking Member of Finance Casiel Ato Forson (NDC MP, Ejumako-Enyan-Essiam) have both threatened to take legal action against the pro-NDC newspaper, The Herald, for mentioning them as allegedly being induced to turn a blind eye in Parliament to any infractions in the massive oil deal.
In a story titled 'CSO names Haruna Iddrisu & Ato Forson in GNPC Bribery Scandal…As government sponsored trip to America breaks NDC front in Parliament', The Herald gave what it says were details of how the MPs, who are part of the Mines and Energy Committee, as well as the Finance Committee of Parliament, were supposedly being induced to tone down on any criticism concerning the deal.
The newspaper had said, "It is emerging that the Minority Leader, Haruna Iddrisu and the Ranking Member of the Finance Committee of Parliament, Cassiel Ato Forson, both of the National Democratic Congress (NDC) facilitated the meeting between Aker Energy and the Ghana National Petroleum Corporation (GNPC) leading to some moneys exchanging hands over the US$1.65 billion oil blocks transaction."
CSOs Angle
It mentioned the Executive Secretary of the pro-NDC Alliance for Social Equity and Public Accountability (ASEPA), Mensah Thompson, as having "confessed to receiving a cash amount of GH¢10,000 from Aker Energy and GNPC, days before the US$1.65 billion loan got to Parliament."
It had alleged that Mensah Thompson had "revealed that the said meeting was arranged by the Tamale South Member of Parliament and his counterpart from the Ajumako-Enyan-Esiam Constituency in the Central Region."
"According to the ASEPA boss, he got phone calls from Haruna Iddrisu and Cassiel Ato Forson, who are on the Mines and Energy Committee, as well as the Finance Committee of Parliament that agents Aker Energy; the sellers and GNPC; the buyers of the US$1.65 billion oil blocks would like to meet him, and that he should listen to them," the newspaper claimed, adding that "Mr. Thompson told The Herald in an interview that, not long after the calls from the two MPs, the Country Manager of the Aker Energy; Kadija Nana Adwoa Amoah and the Deputy Chief Executive Officer of GNPC; Joseph Dadzie, met him at the car park of an office at Airport Residential Area in Accra, where he had gone to see a friend and handed him the envelope containing the cash days before the loan agreement got to Parliament."
More Revelation
The newspaper also mentioned Duncan Amoah of COPEC as disclosing to them that "his meeting with Kadija Amoah and Joseph Dadzie, where he was given GH¢30,000 by the two in his office, was facilitated by Evans Mensah, a journalist with Joy FM."
"Evans, however, has admitted to The Herald that he does some media consultancy for Aker Energy, but denied being part of the meeting with Duncan Amoah in his office with Joseph Dadzie and Kadija Amoah to elicit COPEC's support and also give him money," it said, adding "However, Duncan Amoah, in a follow up interaction with The Herald insisted that the said meeting indeed, took place with Evans Mensah."
Threats To Sue
Both Haruna Iddrisu and Ato Forson, have been incensed by the publication and have both issued separate warnings to the private newspaper to retract and apologise to them or meet them in court.
The Minority Leader said in a statement that, "My attention has been drawn to a publication on the front page of the Friday, September 3, 2021 edition of The Herald newspaper. The said publication was under the banner headline 'CSO Names Haruna Iddrisu and Ato Forson in GNPC Bribery Scandal'," adding that "I wish to place on record that the publication under reference is spurious, malicious, baseless and a figment of the imagination of the 'ghost' writer. The fact that the writer mysteriously omitted his or her by-line shows his or her malevolent intent and points to the fact that the publication is a fabrication. I wonder why the writer will want to hide under the cloak of anonymity if he or she was confident of his or her news story.
"For purposes of emphasis, I have at no time participated in or been privy to the issues, dealings and processes that have been alleged against me. The said publication is nothing but falsehood calculated at tarnishing my hard-won reputation and bring me into disrepute and public opprobrium. It also exposes the general lack of knowledge and understanding of the workings of parliament."
Discerning Members
"I entreat all well-meaning and discerning members of the public to read in-between the lines and see this publication as exactly what it is – malicious, mischievous and a pack of lies. I also implore my colleague members of the NDC Caucus in Parliament to disregard this attempt by what is obviously the work of unseen hands to create disfavour and disaffection for me personally. It is also a premeditated effort to place a wedge among us as the Minority Group, cause disunity within our Caucus and make us incapable of holding government accountable for its policies and decisions – which is one of our key responsibilities."
The Minority Leader then said, "I demand that The Herald retracts the said publication and render an unqualified apology with the same prominence as the said malicious publication within 24 hours failing which notice is hereby served that I have instructed my lawyers to assess all possible grounds that this publication offers for a legal suit against The Herald newspaper, the writer of the story and all the hidden faces behind such a wicked and politically motivated publication against my person."
Lawyer's Letter
Haruna Iddrisu's lawyer, James Mensah Kulley then wrote to the newspaper, asking them to retract and apologise to the MP by September 6, 2021 or they will commence legal action against the newspaper.
"It is evident from the publication referred to that, they were made recklessly and maliciously without regard to the truth, with vicious intent to destroy the hard-earned reputations of my clients and to bring their name into disrepute, ridicule, and public hatred," adding that "I am by this letter demanding that you publish a withdrawal of the publication referred to above and render an unqualified apology to my clients on or before the 6th of September, 2021. This rejoinder should be published in the same position and given equal prominence as the publication complained of in your paper."
"Should you fail to publish a withdrawal of the said publication and render an unqualified apology to my clients, on or before the 6th of September, 2021, I have their further instructions without recourse to you, to commence legal action against you and your publishers to redeem the image of my clients," the letter said.
Ato Forson
Last Friday, Ato Forson, perhaps incensed by the publication also threatened on Facebook that "Please, disregard this defamatory story about me. I have never facilitated any meeting between the parties. Publishers have 24 hours to retract and apologise, giving it the same prominence they gave the original story, failing which, I will drag them to court!"
Duncan Amoah
Duncan Amoah, who is the Executive Secretary of the Chamber of Petroleum Consumers (COPEC), also denied the newspaper's claim saying, "I, Duncan Amoah of COPEC Ghana have never met in person Aker's country director or any official from GNPC who is alleged to have given me any bribe so called as far as this GNPC/ Aker agreement is concerned, as my public disagreement of the deal is not a secret. My position and objection on the deal is a matter of public knowledge which has never at any point changed and remains same."
He said, "To state (my position): although there is nothing wrong with GNPC's intention in increasing its stakes in the nation's oil assets, COPEC will continue to stringently demand for value for money in the Aker/GNPC transaction in the interest of the Ghanaian people. We as a civil society platform will continue to demand for the necessary valuation and appraisals to be done in arriving at final figures if this deal is to materialise."
"Kindly ignore any publication that suggests that I, Duncan Amoah, (have) met Kadijah Amoah or any official of GNPC to be given money … I do not even know her or any official, for that matter, in person and cannot be compromised by such," he posted on social media.
Whole Deal
The government, acting through GNPC, has already initiated a process to acquire a 37% stake in Deepwater Tano Cape Three Points and a 70% stake in the South Deepwater Tano block. The purchase agreement, once finalised, will result in the establishment of a joint operating company between Aker Energy, AGM Petroleum Ghana Ltd and GNPC Explorco.
The planned acquisition received cabinet approval and was laid before Parliament on Monday, August 2, 2021 for approval to mandate the ministers responsible for energy and finance to commence negotiations and agree on a purchase price with Aker Energy and AGM.
The post 'Bribe' Sets NDC On Fire appeared first on DailyGuide Network.