The beautiful images Manzi wa Kibera and her 66-year-old mubaba post show that the two are getting along well and had a wonderful Valentine's Day.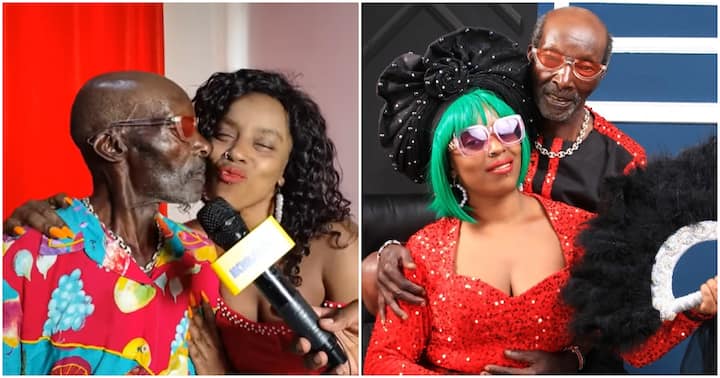 According to the socialite, their relationship would end with a wedding and two children.
Manzi wa Kibera and her old bae said that were making huge leaps in their relationship with the newest being an HIV test as a symbol of commitment.
Speaking to Youtuber Nicholas Kioko on Wednesday, February 22, the pair stated they are still loyal to one other and blasted off detractors who had forecasted they would spilt over their age gap.
"Kama mimi 66 ndio ilinifurahisha then what is it? Wacheni mimi na mzae. Saa hii ni three months we have been dating, there is no clout or anything like that." she said.
Mzee is good in bed
Wambui alias Manzi wa Kibera says she has been having the best days and nights of her life since she met her 65-year-old boyfriend.
The old warrior, she coos, is a tiger whose bedminton capabilities bring her ex boyfriends who were only slightly older than her to shame.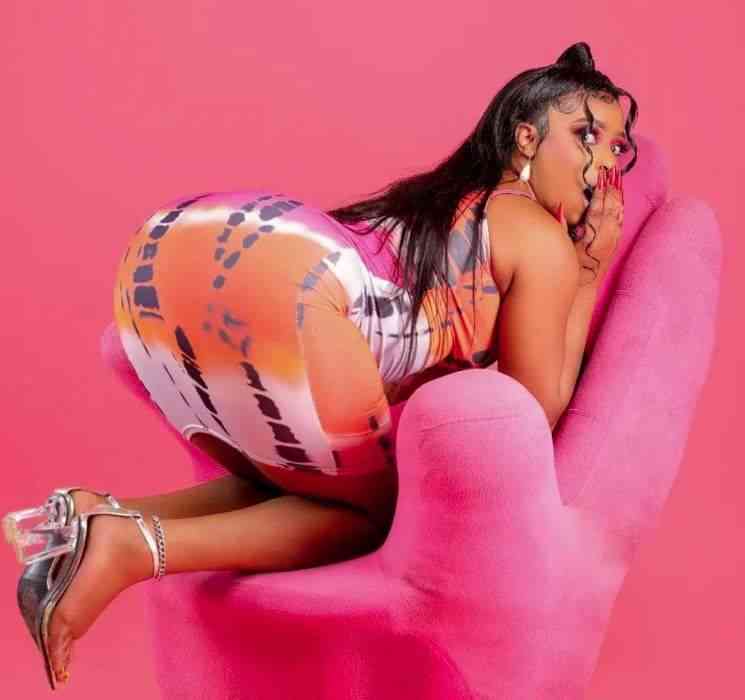 She told The Nairobian that Mzee fires live bullets the whole night, spicing their nights with just the right kisses, the right words and the right touches during their romantic escapades.
She describes Mzee's gun as a strong, long, and curved pillar that hits the right spots, making every night beautiful.
And as Mugithi plays in the back, and candles light the rooms, its pure sweetness.
Also read: Kenyans praise young Tumiso for defending her mum Wahu against trolls
"A night with Mzee is therapeutic. It is pure sweetness. You wake up in the morning, and the only thing you're looking for is cold water after a marathon night," Wambui said.
Wambui said she met Mzee after confessing her feelings for Peter Salasya, the 'cartoonish' Mumias East MP who has been walking around in circles looking for a wife. She stood with a placard at Nairobi's Kenya National Archives asking the Mumias East lawmaker to marry her, but the first-term lawmaker responded on Twitter saying he didn't like her dress code.
"Next time you carry a placard, try to put on decent clothes. At least I will be proud of you. Those people I serve are so strict on image presentation," Salasya said, adding, "Manzi wa Kibera, I wish you all the best. It'll come one day, and we'll worship together in a church."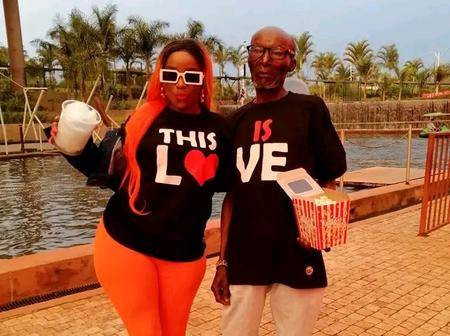 Mzee took the chance to inbox her, asking her to give him a chance to love her. When she asked him why they should date, he told her she was beautiful and charming and that they should meet and see what the future held.
"We can have coffee, or lunch and then see what happens next," Mzee told her. Wambui said she took him seriously because he was straight to the point, and she respected and loved him for that.
"We started communicating and doing texts, and then chemistry developed, and we found ourselves in love. He is a good man, and everything I wanted in life," she said.
Wambui said they kept their affair secret for a month before making it public. Folks were not amused.
Also read: Nyashinski's wife Zia Bett welcomes baby number 2
"People don't know us, and they already have opinions. But what I know is that we are in love. They should wait for wedding bells soon," she said.
Age is just a number
She warned those badmouthing their relationship to focus on building their own lives instead.
"I have a father, a mother, a sister, and a brother in my mzee," she told the Nairobian. I'm getting both fatherly and boyfriend love in one. Age is just a number, like counting from 1 up to one trillion," she said.
Wambui said her old lover is a blessing because she grew up as as an orphan after her parents died.
"I only have their photos, but I have learned to be tough and fight for myself. I don't have a brother or sister," Wambui said.
She admits her voluptuous behind is fake.
"This is some legit stuff (ass), but I won't lie to you and say that it is natural. My behind is not from God," she said.
Asked whether her lover has a family, she said the old man's wife died in 2007, but she has never met his children.
"I am the wife, the mother, the child, and the girlfriend in this relationship," Wambui said.
Love is love
She added that she has wasted her life dating young people who never appreciated who she is and said she was happy to find the old man, whom she believes is mature, knows how to love, and is ready to have fun.
Also read: Eric Omondi excites Kenyans with fake Big Red Boots worth 43K
"When you really love someone, age, distance, height, and weight don't matter. Love is love," she said. "He has good experience and knows where to touch and where to kiss; I am just hopeless in his arms."
"Right now he has left for a business trip, and I am already feeling lonely." "He is a businessman."
She said other people are seeing Mzee as old, but he is young, and they are ready to have fun.
"He is not shy about trying new things, and he is ready," she said.
Wambui previous marriage
Wambui got married to Obidan Dela in 2021 in a highly publicized wedding.
They later broke up, saying that they had rushed things.
"I just decided to take a break from marriage, I think before marriage people should take enough time and never do things like weddings or make babies because of pressure," she said.
Wambui rose to fame after comedian Eric Omondi featured her in a controversial "Wife Material" show. The show was cancelled when Omondi was arrested on the instructions of the Kenya Film Classification boss Ezekiel Mutua and ordered to deleted the content, which was considered explicit and unsuitable for young audiences, from his YouTube channel.
A fake, voluptuous behind? A social media storm involving a supposedly wealthy but nameless man three times her age? Dalliance with comedian Eric Omondi? Is this love or a choreographed skit to market booty fattening pills?
"Those who claim I am looking for clout, shauri yenu. Shughulikeni na maisha yenu," she said.